HM Environmental Services, Inc. offers a wide range of services related to the cleanup and decontamination of hazardous material and work sites. Please click on a service to find out more:
HM Environmental Services, Inc. can help manage PFAS from industry through new treatment technologies and proper disposal methods…
HM Environmental's oil field support services offers equipment, and personnel necessary to optimize oil field exploration through containerizing waste(s) transportation and disposal services…
HM Environmental Services, Inc. has cost effective solutions dealing with numerous types of non-hazardous, hazardous, and industrial wastes. Initially, information pertaining to each waste stream is gathered. Then each drum is sampled and identified through analysis or material safety data sheets to become familiar with the types of hazards that may concern the handling and disposal options.
HM Environmental Services, Inc. offers customized containers and transport vehicles enabling us to transport material in a nuisance free, environmentally friendly manor. We are compliant with all federal, state and local authorities in our region and offer 24 hour service.
HM Environmental Services Inc. has personal and equipment to handle any type of site clean-ups. Each step of the project is carefully planned and laid out for the owner or owner's representative. Progress charts are produced to make sure every thing stays on time and with in budget. This also helps our on site staff pick the correct equipment and personnel to ensure timely completion.
Hydro and air excavating are the latest technologies in the science of digging without traditional excavating equipment.  Utilizing air or water, these self contained units force air or water through a steel lance with small stationary or rotating nozzles.  The resulting water slurry, and soil are vacuumed through and eight inch tube into our debris tank for disposal, or re-use as back fill.
HM Environmental Services, Inc. provides the services to ready your building for the real estate market.  From securing water lines, windows and doors to plant floor cleaning and debris removal.
High Vacuum Extraction, also referred to as enhanced fluid recovery can be an efficient tool in recovering free product, impacted groundwater and soil vapors from leaking underground storage tank sites for radiation, pilot testing and dewatering.
HM Environmental Services sets itself apart from our demolition competition due to our extensive knowledge of environmental conditions that are present on all demolition sites. We take great care in erosion and dust control measures, decontamination of industrial process equipment and piping and cleaning and removal of USTs.
HM Environmental Services, Inc. provides the installation and routine maintenance of Dual Phase Extraction systems including SVE Systems (soil vapor extraction) and GWE (ground water extraction)  systems designed to remove VOC's and contaminated liquids from subsurface contaminated areas where underground tanks were present.  Our systems include all site preparation, trenching, pipe installation, control room design and placement and restoration of the site to the customer's satisfaction.
HM Environmental Services, Inc. has extensive experience in environmental remediation. All of our staff is trained in proper excavation procedures along with 40 hour OSHA HAZWOPPER training. Our services encompass excavation and removal of impacted soils, removal of ASTs and USTs, site cleanups, demolition, and installation of insitu remediation systems. We have the proper equipment to manage projects including large excavators, mini excavators, rubber tire backhoes, and skid steers.
HM Environmental Services, Inc. provides a fleet of bulk transportation vehicles with capabilities of transporting up to 13,000 gallons. Also available are vacuum units these also have capabilities of hauling six thousand gallons.
HM Environmental Services, Inc. can effectively clean material from a variety of industrial locations using high pressure water (hot or cold) in conjunction with vacuum and confined space procedures where required. All technicians and supervisors receive 40 hours of training according to CFR 1910.120/1926.64.
HM Environmental Services, Inc. provides a fleet of roll-off units and containers to comply with the customers different waste streams. Our fleet of roll-off units travels through Michigan, Ohio, Indiana, and Illinois supplying roll-off box units ranging from 10 to 30 cubic yard open top boxes to dedicated Asbestos boxes as well. Also available for special waste streams are closed 20 cubic yard vacuum boxes to complete waste removal and transportation services.
Throughout our history, HM Environmental has assisted our clients with total plant decontamination services including removal of all health/safety issues, waste identification and disposal, demolition services, site restoration and clean up. Plant & property size has ranged from 1000 sq. ft. up to million sq. ft.
HM Environmental Services, Inc. has experienced personnel to complete exploratory excavation projects. Due to unknown contaminants that may be encountered such as petroleum products, plating and metal finishing waste, PCBs, or dry cleaning chemicals, safety procedures are our number one concern. Personnel are equipped and capable of entering an area using level "B" safety equipment. Extreme precautions are taken to safeguard handling of all materials before entering the work zone.
HM Environmental Services, Inc. is fully licensed and permitted to transport material throughout the Midwest and offers a complete line of transportation services capable of transporting various types of regulated – as well as non-regulated – waste.
HM Environmental Services, Inc. is committed to the highest safety procedures when challenged with the removal of AST's and UST's. HM is experienced at removing tanks of any size or type, including gasoline, diesel fuel, heating oil, plating wastes, and waste treatment tanks. Personnel assigned to projects are fully trained and qualified.
No Cost Environmental Surveys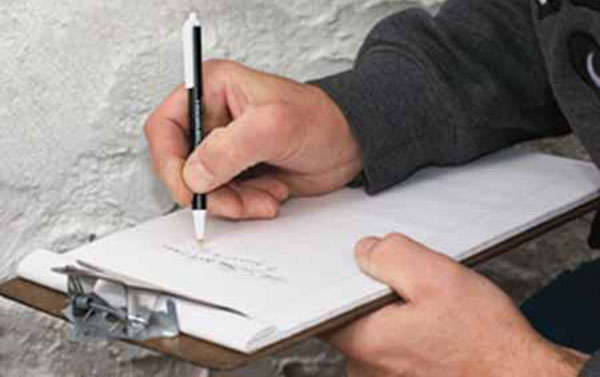 Click here to find out how you can receive a free environmental survey from HM Environmental!